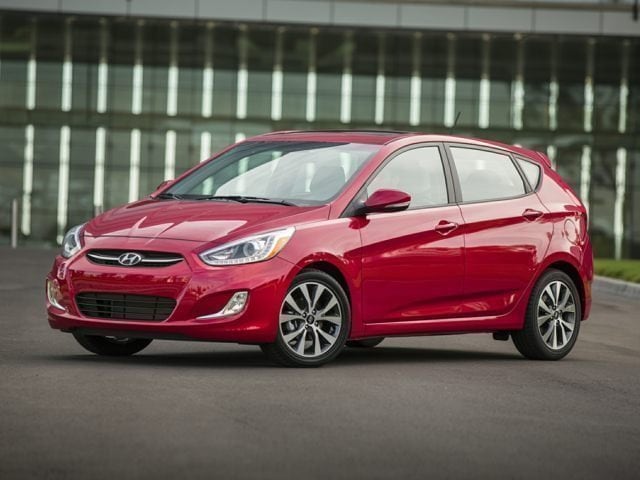 Looking into the new Hyundai Accent? Explore our compact car competitive comparison
At Rick Case Hyundai of Cleveland, we've had the pleasure of working with drivers from all around the Cleveland area for quite some time now, and we've always strived to be in touch with our customers' wants and needs. And whether you're from nearby Parma or Cleveland Heights, having a reliable, affordable, and efficient car is something nearly every driver wants. Fortunately, few cars align more perfectly with those qualities than the new Hyundai Accent. This versatile compact car is an immensely popular model at our dealership, and if you'd like to see if it's the right one for you, feel free to explore your competitive comparison between the Hyundai Accent and two other popular compact cars, the Toyota Corolla and Nissan Sentra.
Hyundai Accent vs. Toyota Corolla
Fuel Economy: Now, if you're commuting from nearby Mentor to Cleveland on a daily basis for work, chances are good that you spend a lot of time on the highway. As such, you want to be saving as much on fuel as possible. The Hyundai Accent offers better standard highway fuel economy than the Toyota Corolla, making it easier to save money on your daily commutes.
Technology: If you're like many drivers from Shaker Heights, you're looking for a car that can help you stay connected on the go. Luckily, it's all too easy to do so with the new Hyundai Accent, as it offers support for Apple CarPlay and Android Auto on its infotainment system, allowing you to easily make calls hands-free, have your text messages read out to you, and even use your favorite apps with its responsive touchscreen interface. Unfortunately for the Toyota Corolla, it doesn't have such connectivity features.
Interior Space: Want a compact car that's small enough to zip around the busy streets of Cleveland, but still roomy and comfortable on the inside? Choose the new Hyundai Accent over the Toyota Corolla, as it boasts a greater overall interior volume, making it markedly more comfortable even for taller drivers.
Convenience: Like many new Hyundai models, the new Hyundai Accent comes packed with convenient features, including a USB port in both the front and the rear seats that will allow your passengers to easily charge phones and mobile devices on the go. As for the Toyota Corolla, it only offers one USB port in the front seats, meaning its drivers and passengers will have to share if they want to keep their devices charged up.
Warranty Coverage: Looking for true peace of mind with your purchase? The Hyundai Accent features powertrain limited warranty coverage for up to 10 years or 100,000 miles, whichever comes first. By comparison, the Toyota Corolla only features powertrain limited warranty coverage for up to 5 years or 60,000 miles, whichever comes first.
Hyundai Accent vs. Nissan Sentra
Performance: Contrary to popular belief, choosing a compact car does not necessarily mean giving up on something that's fun to drive every day. Fortunately, with more standard horsepower than the Nissan Sentra, the Hyundai Accent offers a pleasant, engaging ride quality that few of its competitors can match.
Fuel Economy: Just as with the Toyota Corolla mentioned above, the Nissan Sentra falls short when you compare its highway fuel economy to that of the Hyundai Accent. This makes the Hyundai Accent the overall better choice for drivers who want to save on gas.
Warranty Coverage: Once again, the Nissan Sentra falls short of matching the Hyundai Accent on its powertrain limited warranty coverage, so if you don't want to spend extra out-of-pocket for unexpected maintenance, the Hyundai Accent is the smarter bet.
Interior Space: The interior of the new Hyundai Accent is significantly roomier than that of the Nissan Sentra.
Technology: While the Nissan Sentra only features a 5.8-inch touchscreen infotainment interface, the larger, more responsive 7-inch touchscreen infotainment interface of the Hyundai Accent makes its system much easier to use on the road.
If you're interest in the new Hyundai Accent, feel free to visit us at Rick Case Hyundai Cleveland for a test drive today!